Congreso Internacional de Investigación Tijuana
It is with great pleasure that we announce the tenth edition of Congreso Internacional de Investigacion Tijuana (CI2T), to be held during april 24-26, 2024.
The CI2T is organized by the Faculty of Chemical Sciences and Engineering of the Autonomous University of Baja California, Tijuana campus. The CI2T offers a bilingual dissemination platform (English / Spanish) for professors, researchers, students, graduates, and professionals, where theoretical and / or experimental proposals are presented.
CI2T brings together scientific and academic communities, as well as industry leaders and experts, plant engineers, regulatory specialists, manufacturers, brand marketers, advertising agencies executives and business intelligence experts. It represents a great opportunity to connect face-to-face for discussions related to Computer, Electronics and Industrial engineering, as well as Chemical and Applied Sciences in projects that benefit both the industry and society.
We look forward to seeing you!
Conferences
The CI2T 2024 is composed of the following tracks:
| | |
| --- | --- |
| SASSSI | 5th Symposium on Applied Sciences for Solving Society's Issues |
| CST | 7th Conference on Chemical Sciences and Technology |
| CoCSCE | 7th Conference on Computer Science and Computer Engineering |
| CoEE | 7th Conference on Electronics Engineering |
| ICIP | 7th International Conference on Industrial Projects |
Call for Papers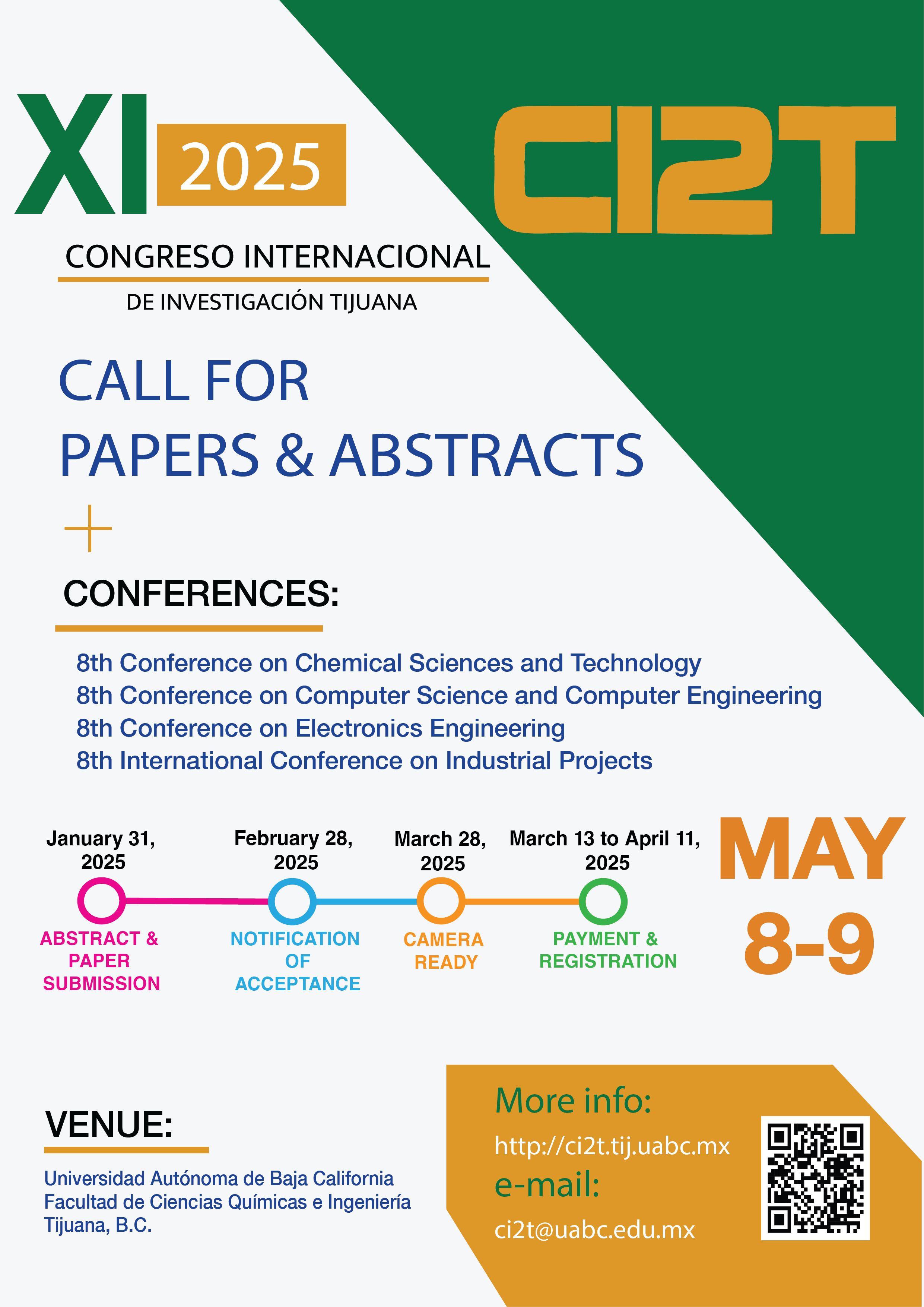 | | |
| --- | --- |
| Abstract and paper submission deadline: | January 22, 2024 |
| Notification of acceptance: | February 26, 2024 |
| Camera ready deadline: | March 22, 2024 |
| Payment registration | April 1 - 15, 2024 |
| Conference | April 24 - 26, 2024 |
Committee
General chair
Alejandra Serrano Trujillo
Co-Chairs
Mauricio Alonso Sánchez Herrera
Diego Armando Trujillo Toledo
José Jaime Esqueda Elizondo
Eduardo Alberto López Maldonado
Program chair
Lizeth Carolina Aguilar Dodier
Finance/Inventory chairs
Diana Abel Vázquez Vázquez
Web Master
CMT chair
Mauricio Alonso Sánchez Herrera
Sukey Sayonara Nakasima López
PR/Difussion chair
Contact